Free Homework Punch Card Template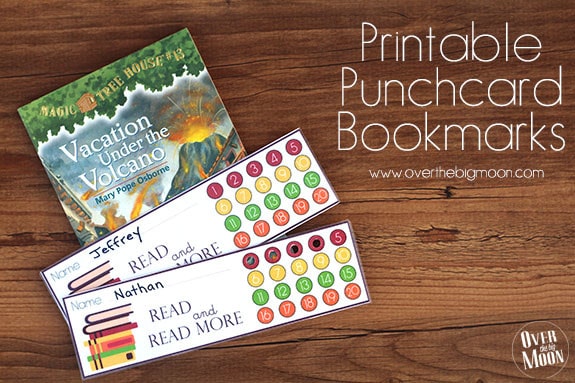 School is in full swing around here! Things have been good, even homework time has been amazing thanks to our new Homework Station! The only item I'm getting any resistance from with my 2nd grader is getting his reading minutes in! I wanted to help give him some incentive and motivation to do his reading, so I designed these cute Printable Bookmarks with punches on them!
The bookmarks have 20 spots to punch (or sticker, or mark off, etc)! Each bookmark has spots for him to read 5 of 7 days a week for 4 weeks! So, a punch card will last approx a month! If he can read 20 of the 30 (or 31) days a month, then he'll earn a reward. For example ice cream date, go swimming, $5, etc!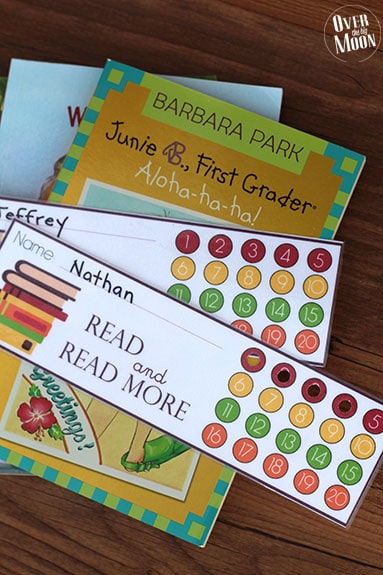 My Nathan is really excited about this new system! He likes to visually see his progress, plus he really likes having a fun bookmark! I already know I will be designing some others in the near future!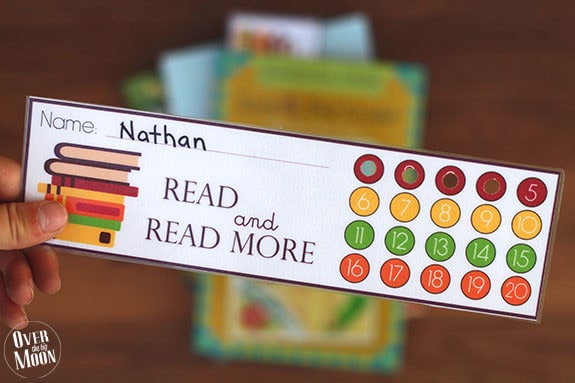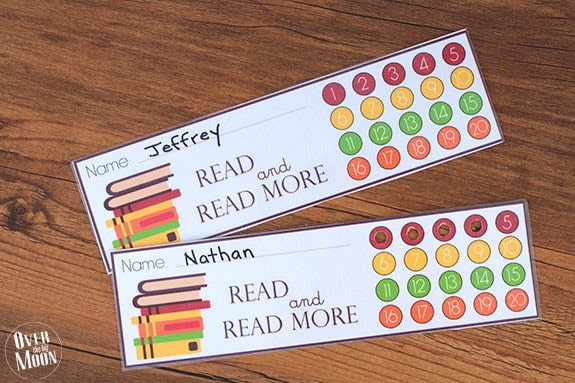 You can download the PDF below! Just print them at home on cardstock and then cut out! To make it more durable, we did put them through our home laminator. But, if you don't have one, then don't stress. I really think leaving it as plain cardstock will be fine for just the 1 month! If you don't want to punch your bookmark, then you could also laminate it and then use a marker to mark off the days.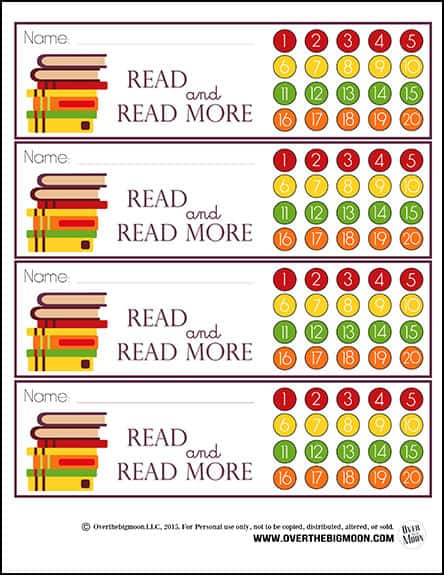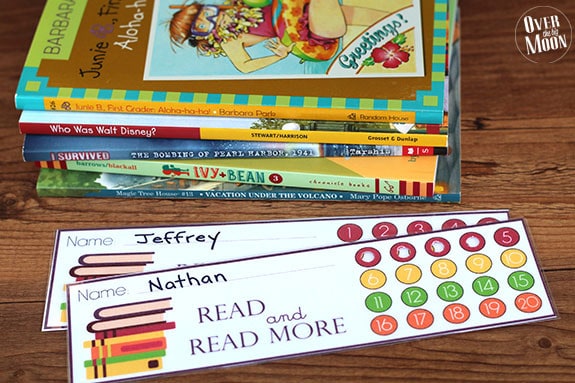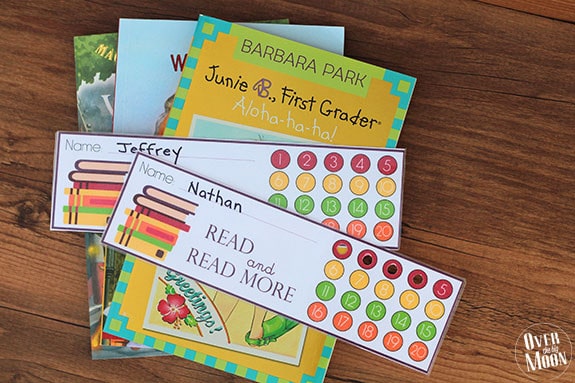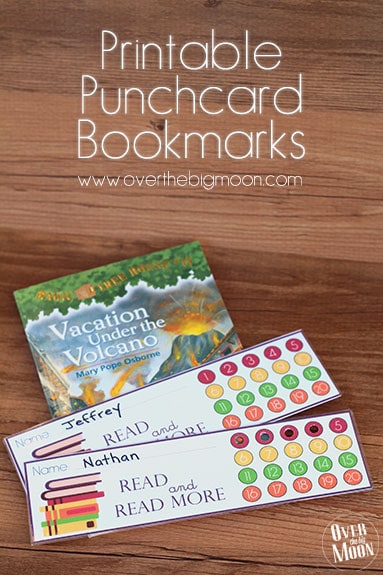 Enjoy and happy reading!!

MY LATEST VIDEOS
---
Pam Dana
Pam is a stay at home working mama that enjoys all phases of life! Between her 3 kids, fur baby (a beyond cute Goldendoodle), wonderful husband, friends and working, she stays pretty busy! But, she is loving every aspect of her life! Here on Over the Big Moon, she loves to share DIY's, recipes, printables, organization tips and more!
---
Positive behavior reinforcement is always something I strived to improve in my classroom. It always seemed like I was whipping out an old trick from a seasoned teacher to try.  Sometimes a new, simple concept to reward behavior was just what I needed to get my students back on track after a long weekend or sugar filled holiday.  I want to share with you how I used punch cards in my classroom with my little learners. A dear teacher friend shared this tip with me over 5 years ago!
How we used them:
-In our classroom I used a clip chart for the most part. When students would move their clip up at all, they would earn a punch in their punch card.
-Another way I have seen teachers do it is to spot them making great choices and then give them a punch in their card right then. It all depends on what your students need. Maybe they do need immediate reward or maybe they can wait until the end of the day.
-Once the punch card was full, they earned a trip to the treasure box, lunch with the teacher, the ability to put our read aloud books in their book bins for the week, or anything great like that!
-I have also used this in behavior plans with students. We would break it down and instead of rewarding them for having the card full, they would earn a reward for every set of 5 punches.
Why I loved them:
-They were easy to use
-Student led and monitored (With my 1st grade students, I would assign a student to this job weekly and they were in charge of punching cards at the end of the day. They LOVED it because they played teacher!

-The students always kept me accountable
-The students were motivated and knew what it felt like to work hard to earn something they wanted
Want to give them a try? Grab this FREE punch card! I love to copy them on a different colored cardstock for each month. There are 20 stars on each card—enough to cover 4 weeks of school days if you want to do a monthly system.
click the image above to grab the FREEBIE
Looking for more positive behavior reinforcement ideas? Check out this post HERE.
You may also want to follow my Classroom Management Pinterest board for more great ideas!
pin it